Shopping Cart
Your Cart is Empty
There was an error with PayPal
Click here to try again
Thank you for your business!
You should be receiving an order confirmation from Paypal shortly.
Exit Shopping Cart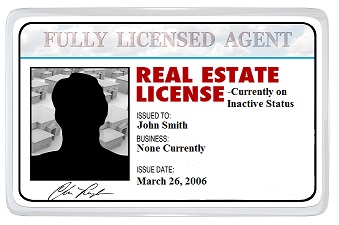 Being inactive does not mean you are not up to date with your bi-annual education or that you are late paying the State of Florida their bi-annual fee. Having an inactive real estate license in Florida just means that you are not active under a Florida real estate Broker. There are currently around 80,000 people who have a Florida real estate license that is on inactive status. The downside of staying inactive is that you still have to pay the State of Florida their fee every 2 years and complete your 14 hrs of continuing education. You are not legally able to collect any type of real estate commission.
The average person stays on inactive status for 12 years before they finally decide to let their license go that they worked so hard for initially. Most inactive agents have other full-time jobs and want to do a few transactions a year. I completely understand why there are so many people with an inactive real estate license in Florida. They feel there is no option except being forced to join a local real estate Broker and paying the Board of Realtors and the MLS such high fees (approx $1500 annually).
The Board has regulated our industry so much that there is no way around joining the Board or the MLS if you want to work with buyers and sellers. With technology now, the Board and the MLS are able to put a stop to non-members. Electronic keys and electronic lock boxes on homes make it so each Realtor is assigned an electronic key to get into homes that only Realtors have access. Mostly all of the listings in the MLS have a section that says they pay non-Realtors 0% to maybe a 1% commission, they will require your MLS code at closing to confirm. Also each MLS system is tracked by your IP address, if the MLS sees additional users, they will find out why.
If you have an inactive real estate license in Florida, there are options for you besides staying on inactive status. An option that you do have besides staying inactive or joining the Board of Realtors is joining a real estate referral company. This type of company is not a part of the Board of Realtors or the MLS which means they are not able to regulate on how the referral company does business. A real estate referral company is a place where people who have a real estate license can hang their license and can still collect real estate commission by referring prospects all over the World.
Agents in a real estate referral company are not selling but instead referring real estate to an Agent who does sell full-time as a Realtor. Real estate Brokers, throughout the U.S., typically pay a 25% "referral fee" for a referral from a real estate referral company. At Park Place Realty Network, we give back 90% of that 25% referral fee. Other companies give back quite a bit less so be sure so shop around for the company that will benefit you the most.
A real estate referral company is a great option for those who have a Florida Real Estate license but are not able to sell full-time. Take a look at our website www.ParkPlaceNetwork.com to see the benefits we can provide for you. We are currently the fastest growing referral company in Florida. By looking at our aggressive program, you can see why.
Written by: Jeremy Weinberg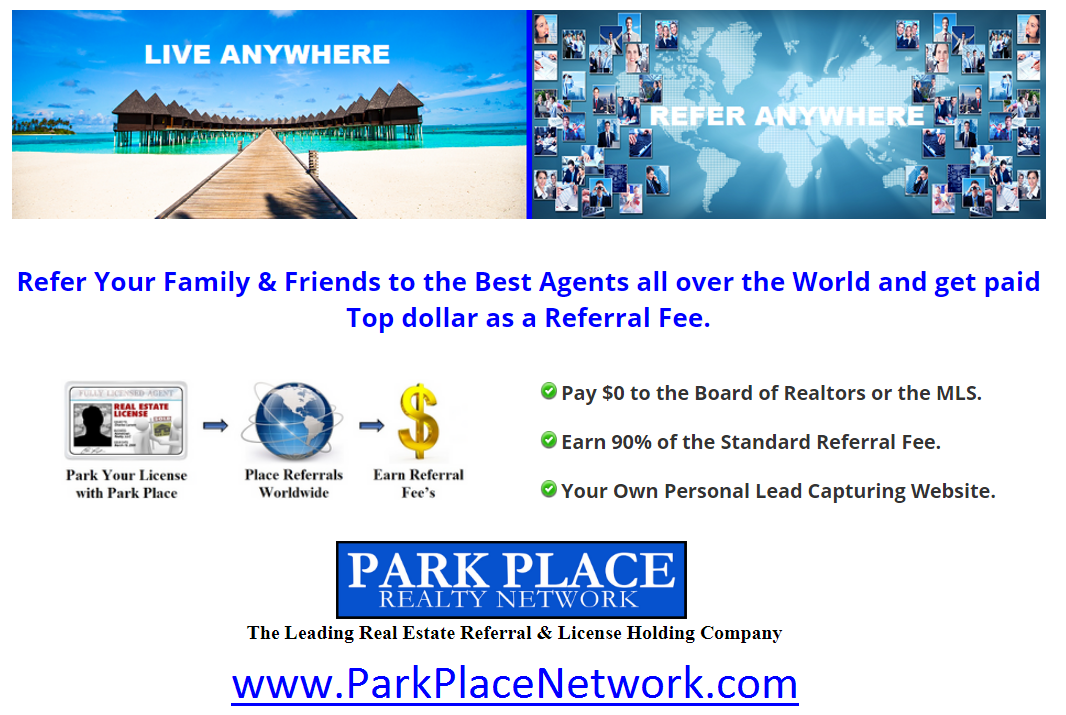 Categories: None

0

/